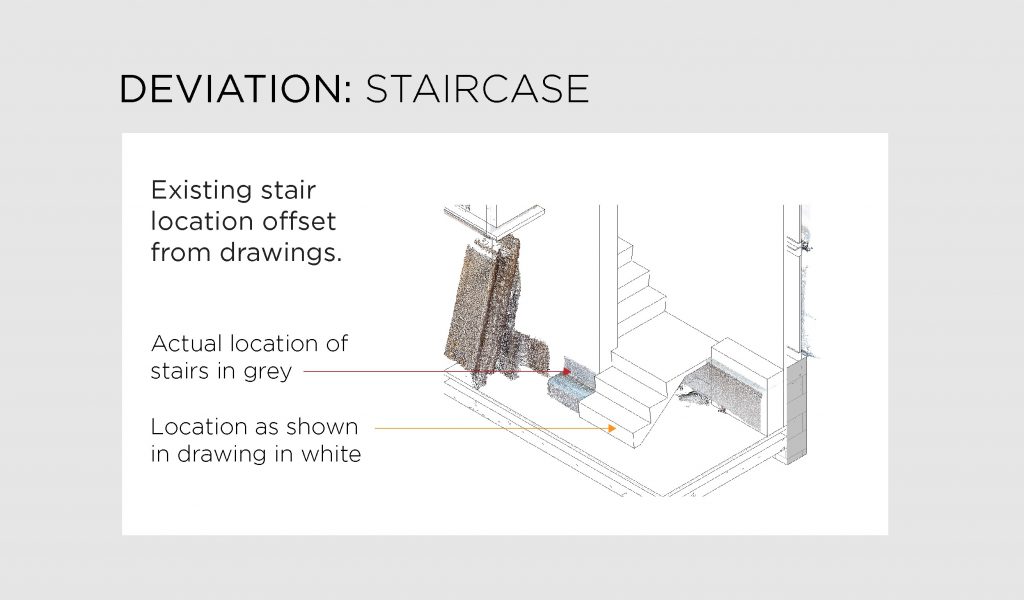 Reis has a unique build system, supported by technology, that reduces time, cost and improves quality starting as early as the design phase. A critical part of that process begins with a deviation study – an assessment of discrepancies between the proposed design and actual site conditions. This report significantly reduces drawing conflicts and avoids unnecessary costs and time spent reconciling issues during the build.
A Deviation study begins with our in-house technology team, who laser scan the site in a matter of hours and produce a report that accelerates pre-construction. They then produce a report using both 3D models and 2D drawings, so the design team and consultants can assess each discrepancy and make necessary changes before designs are finalized and Reis moves into construction and fabrication.
In these examples here, our team discovered that the building's original structural grids were not accurate to existing conditions and as a result the proposed architecture had to be realigned to the space.  Our team was able to locate the issues early in preconstruction and alert the design team and consultants prior to issuance of CDs.  The ability to reconcile the overall architecture avoided future conflicts.